Dear Shopping Public
Yes Tesco, Sainsbury's and Asda may be convenient and offer everything that you need under one roof but it is killing our community. Contrary to popular belief, our fruit and vegetable produce is cheaper than you would get from any supermarket, and it comes from growers and producers that live in our area. Is it not important to keep the supermarkets from taking over the world? So instead of walking past the front of my shop talking about how good the prices are as you continue to walk up the road to Tescos, why not come inside and buy something, not only will you save some money but you will keep me in a job!
Thankies,
Your friendly Neighbourhood Greengrocer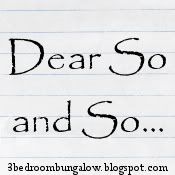 Dear K
Attending school is not negotiable, the holidays are over so when I tell you to get up and get dressed, please go and take a shower instead of putting on the TV.
Love Mum x x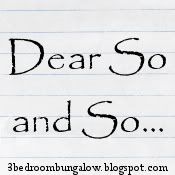 Dear M
As nice as it is that you want to help around the house and tidy K's room for him, it is not really helpful to find that you have picked up the contents of his room from off the floor and stuffed them behind the sofa! Please get a bin bag and put the rubbish there in future.
Love from Other Mum. xx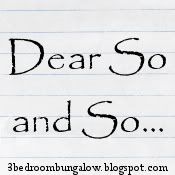 Dear Wagon Driver for Sainsbury's
STOP PARKING YOUR BLOODY WAGON OUTSIDE MY HOUSE SO WE CAN'T GET OUT THE GATE OR GET INTO THE DRIVEWAY! IT IS NOT YOUR GOD GIVEN RIGHT TO PARK SO CLOSE TO MY HOUSE THAT I CAN SMELL YOUR FUMES FROM MY LOUNGE. STOP IT NOW OR I WILL GET SHOUTY AT YOUR FACE!
Regards
Angry Neighbour!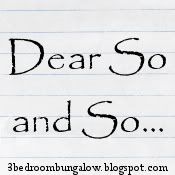 Dear Blog Readers
If you have a rant you need to get off your chest then join in the Dear So and So bloghop with Kat at 3 Bed Bungalow and tell the world how you REALLY feel!
Love you all
Miss Mamo x o x o